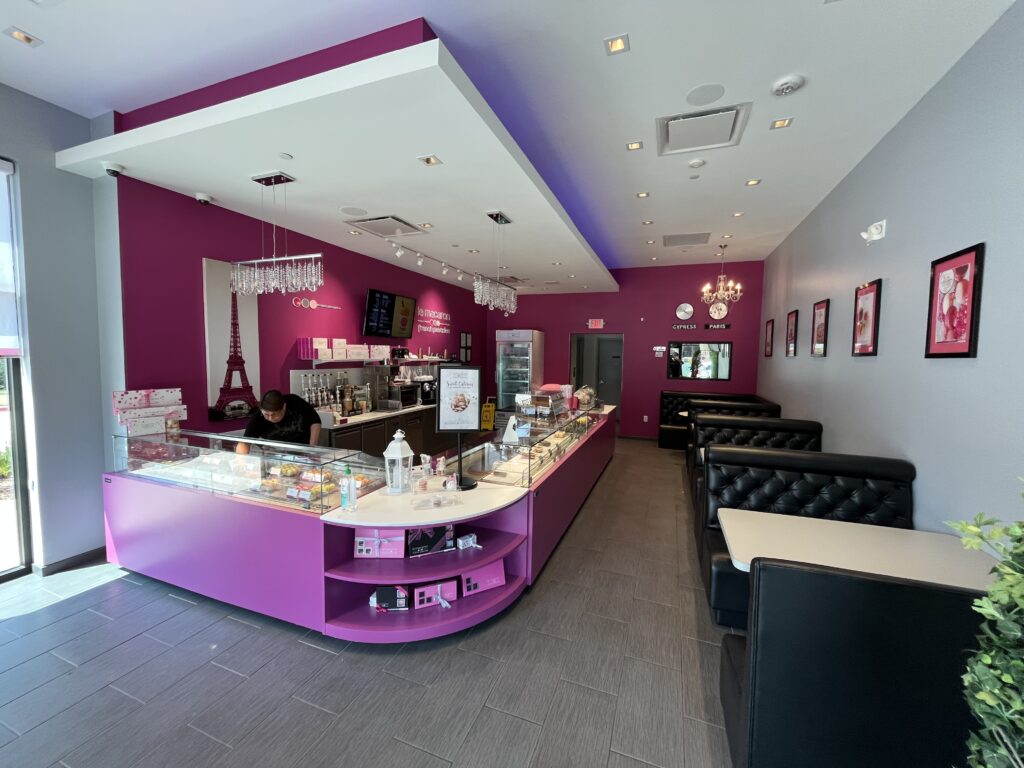 What makes a macaron business a smart option for many prospective owners? 
Owning a franchise is the dream for many of us — it makes you your own boss, and moves your life and career to a new level. And now could be the right moment to look into becoming an owner of a macaron business like Le Macaron French Pastries.
Owning a successful macaron business is a combination of many factors, and Le Macaron French Pastries has developed a franchise plan built for modern times. With a belief in quality, centralized operations, and the kind of owner support that can make a difference when it counts, Le Macaron has positioned itself as the #1 macaron franchise in the US..
Le Macaron has created a franchise with owners in mind and has a product our customers crave and come back for again and again. It's helped make us a business with potential and placed us in a favorable spot for continuous expansion.
A Growing Industry
Pastries might be a passion for many of us, but a macaron business is also a business like any other. Potential owners should take a look at the overall industry before moving forward with their review.
Take a close look at the industry's history. Does it have a solid history of growth? And how is the industry expected to perform in the years to come?
Le Macaron French Pastries is part of the larger bakery café industry, and that puts it in a field that's seen steady expansion for years, with more growth projected. 
That record of growth can help give prospective owners the confidence to continue with their look at Le Macaron French Pastries and the macaron business in general.
A Dedication to Quality
Quality is an essential element in any franchise, and it's especially important when operating a macaron business. 
As macaron popularity has grown, and the pastry has become a regular treat that can work with gluten-free diets and make every day a little sweeter, it's more crucial than ever to find a franchise that maintains quality as it scales up to meet demand.
Le Macaron French Pastries understands that our customers want and expect the same quality from us every day, and it drives our operations.
Everything we do comes from a respect and belief in the heritage and traditions that helped build the business. We aim to provide customers with a taste of France in their neighborhood, and that begins with a tireless devotion to quality.
At Le Macaron French Pastries, we never sacrifice excellence for quantity — it's part of our foundation, and helps make us a macaron business designed for modern times.
Centralized Baking Services
A macaron business is, at its heart, a place for pastries. Many customers come to Le Macaron French Pastries not just because they love the sweet bite of a macaron; but also the classic French pastries, our creamy gelato, or a cup of coffee..
That kind of reputation is one we cherish, and we work every day to earn it. Our operations are built around centralized baking services, so every owner gets the same high-quality products, no matter where their franchise is located or who's on staff. 
Our expert team of pastry chefs oversees the preparation of our sweet delectables in our main baking facility, and they then send them out to our franchises across the country. It's a franchise approach that helps ensure a uniform standard and makes sure our customers enjoy consistently superior treats, wherever they are.
Le Macaron French Pastries knows our owners count on us to deliver the kind of excellence our guests expect, and we've built our centralized process to give them that each day.
Owner-Focused Business Model
Most prospective owners looking into a macaron business have basic needs that should be met before they can consider signing on with the franchise. Having robust and continuing support is often at the top of the list.
Le Macaron French Pastries recognizes that modern franchises are best placed for future development when their owners get the backing they need. It's why we created a business model that places our owners front and center in our thoughts at all times.
Our owners get our support from the moment they start looking into owning a franchise with us.
We provide a flexible franchise model that can be adjusted for individual situations, and are ready to work with single- or multi-unit owners. Our business culture is based on mutual assistance and a sense of family and community. And we're there to lend a hand after our owners open their doors, no matter what the issue.
It's a way of operating that puts our owners first, and gives them the tools they need to build the brand.
Open a Macaron Business with Le Macaron French Pastries
The modern macaron franchise needs to give its owners the essentials to position itself for growth. And that's what Le Macaron French Pastries works to provide.
We believe our franchise owners have the best chance for expansion when they know they're part of a growing industry, keep quality high, and use centralized operations and an owner-centered franchise approach. 
Our franchise model has helped us grow across the nation in more than 20 states, and we're getting ready to expand again.
Le Macaron is preparing to move into new territories, and we're looking for potential owners to come along with us and to provide an authentic French experience in their community.
Want to learn more? Contact us today!