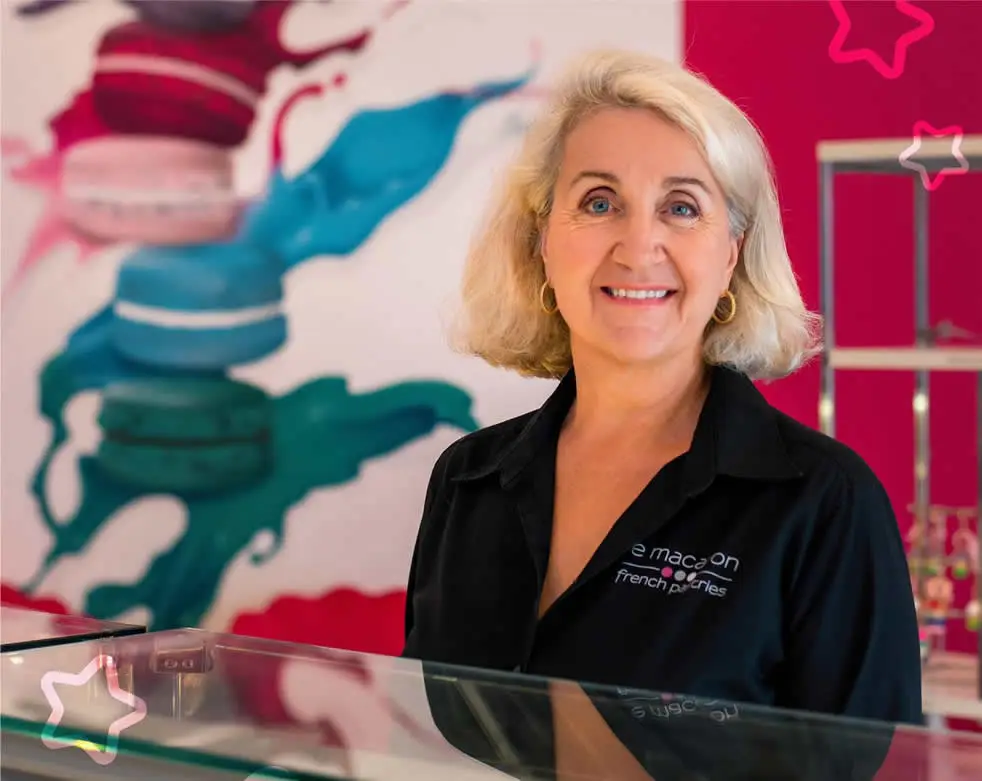 Owning a cake franchise can be the dream job for a food lover, and give them the kind of outlet that lets them share their joy in the sweetness of life with every guest they serve.
A cake bakery franchise can do more than that, too — when you become an owner of a brand like Le Macaron French Pastries, you join a team of experts who know how to build a business designed to deliver what modern guests want.
Le Macaron French Pastries is on the move into new territories, which might make this the right time to join us as we build on the past and look toward the future.
We're excited for what's to come, and with good reason.
Industry growth

Products our guests love

Support for our owners, whenever it's needed

Centralized expertise to keep our quality high
At Le Macaron French Pastries, we believe we're just getting started, and we've got a cake franchise model designed to transform the industry.
Cake Franchise Industry Growth
Finding a bakery franchise for sale and becoming an owner can be a big step in a person's life and career. It's the sort of move that demands careful, thorough consideration, starting with the industry.
Industry performance can be a good indicator for people looking into a franchise, and should give them an idea of what to expect if they become owners.
A review can highlight the industry's strengths and show whether this is a favorable moment for a potential owner to continue their journey.
In the case of a cake franchise like Le Macaron French Pastries, that industry review shows a business sector with years of growth behind it. The industry is also expected to carry on that expansion in the coming years, as projected consumer spending increases.
That history of expansion, and the potential for more in the future, can help give prospective owners the confidence to move forward with their cake-franchise ownership plans.
Cake Franchise Products
Many of today's guests are more discerning about what they eat than in the past. For example, a cake franchise that recognizes their customers' need for treats that satisfy their conscience along with their sweet tooth could be placed for growth.
 Americans are increasingly trying to connect their diet with their health. It's impacted their lifestyle choices in countless ways, especially their food selections.
Health-conscious guests want to enjoy their sweets as much as everyone else. Le Macaron understands this, and we've built our menu around giving them the confections they love.
Our signature macarons are designed to meet our customers' need for authentic flavor and eating pleasure, without gluten or preservatives. Every delicacy we make is handcrafted, and can be part of a modern, wellness-focused lifestyle.
Le Macaron French Pastries combines modern sensibilities with the timeless qualities that help make our products craveable, and our cake franchises a daily destination for our devoted customer base.
Owner Support
An industry on the rise, and a menu that caters to today's guests, help make this a good time to consider ownership with Le Macaron French Pastries. Our owner-focused franchise approach is another key factor.
A leadership team that works together to support the owners can be an essential element in a cake franchise. It's the kind of support meant to keep the owner from worrying about potential issues, and can free them to look at the big picture.
We make solid and extensive owner support part of our foundation at Le Macaron French Pastries.
We designed our franchise to be easy-build, easy-open, and easy-operate. Our training program takes owners from newcomers to seasoned professionals operating their business the Le Macaron way, and shows them how to best leverage the proprietary systems and processes we've developed to aid them in their growth.
We're devoted to the owners who run our franchise, and we make sure they know we've got their back.
Centralized Expertise
What are customers most looking for when they visit a cake franchise? Many of them want, above all else, quality, consistency and reliability.
It's a complicated and challenging world, and having products our guests can count on is one reason we're building a growing pool of loyal customers.
How do we do it? It's partly thanks to how we've set up our operations.
At Le Macaron French Pastries, we help ensure that every confection we make meets our exacting standards for flavor and quality by centralizing our baking processes. They each get loving care, and the kind of experienced oversight needed to produce quality results.
It's an approach that allows for a consistently superior customer experience, and gives our owners the tools for brand development.
Open a Cake Franchise with Le Macaron French Pastries
Becoming a franchise owner can fulfill your lifelong dream of operating your shop and being your boss. And Le Macaron French Pastries has built a brand made for modern business.
We're in an industry that's been expanding for years, and is expected to continue growing for more to come.
Our products have been developed to align with our customer's quality-focused lifestyles.
And we've got support and centralized operations designed to help our owners build the brand and grow their customer base.
At Le Macaron French Pastries, we're ready for tomorrow, and we're preparing to expand our business into new territories.
Want to find out more? Contact us today, and let us help you get started!