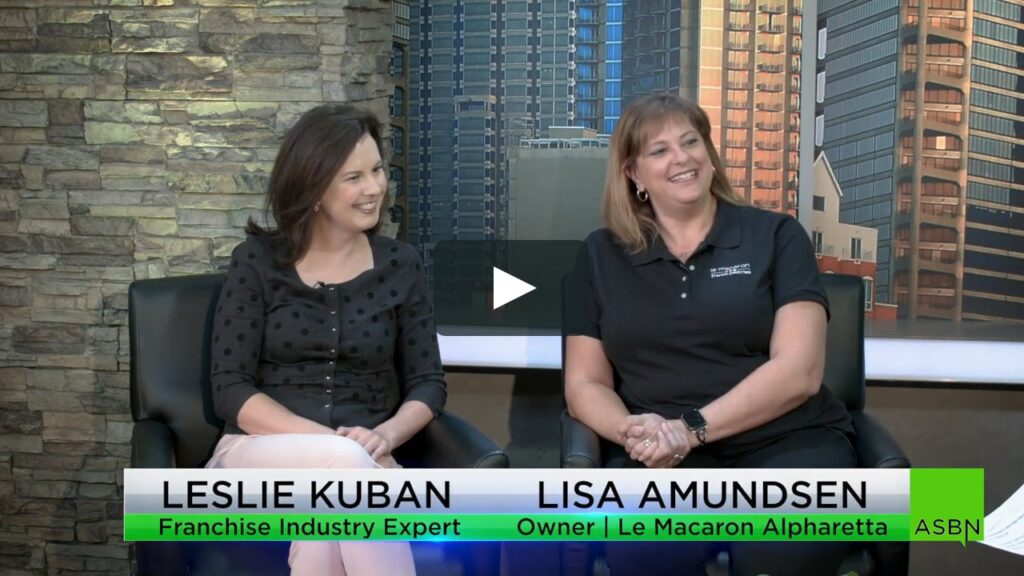 Leslie Kuban, CFE, is the Market President at FranNet. Contact Leslie via email at lkuban@frannet.com or call 404-236-9115 for more information.
Since opening her Alpharetta, Georgia Le Macaron location last month, Franchise Owner Lisa Amundsen has been generating much excitement and buzz about our dessert franchise and our delicious, authentic macarons. Lisa was able to kick things off in style for 2020 with a special appearance on the Atlanta Small Business Show, where she appeared with Leslie Kuban, owner of FranNet. You can watch Lisa and Leslie's segment below in its entirety.
In the interview, Lisa talked with host Jim Fitzpatrick about how she and her husband Dave came to meet Leslie and decide that the Le Macaron opportunity was a good fit.  "My degree is in hospitality management," said Amundsen. "I've just never done the food-service side of it; I've always been on the hotel side." Lisa also talked about her position at HelmsBriscoe, the world's largest third-party meeting procurement company, where she has worked as a meeting location selector for 15 years- and where, as she told Fitzpatrick, she plans to continue working in the future. "I really don't anticipate leaving- I love my job!" she exclaimed.
While Lisa plans to continue working at the job she has loved for over a decade, she prefers not to think of her semi-absentee ownership role at Le Macaron as a 'side hustle.' In her interview, she says, "I'm trying to do both, and we'll see how it goes." Lisa's desire to remain in her career while pursuing the Le Macaron opportunity showcases the level of freedom and flexibility our Franchise Owners can have while achieving their goals of becoming entrepreneurs!
The couple's interest in owning a franchise began when Dave Amundsen, a former vice president of finance at a major corporation, decided to make a major career change following a layoff. "He just decided one day, 'You know what? I am done with corporate. Let's do something together,'" Lisa recalled. "We kind of took a step back and were like, 'Well, what are we going to do?'" Enter franchise industry expert Leslie Kuban!
Leslie described her first interaction with the couple in the TV interview. "Theirs is a very similar story to a lot of couples that I work with," she said. "He [Dave Amundsen] attended one of my presentations- this is the crash course in franchising if you're thinking about opening a small business. Franchising is one way you can go and…[there are] a lot of pros, but it's not for everybody. Part of the conversation is if you want to start a business- would franchising be the best fit for you to consider entrepreneurship."
For the Amundsens, Leslie says, owning a dessert franchise with Le Macaron ticked all the boxes, allowing both Lisa and Dave to play to their strengths and bring their skill sets to a new challenge- one they could take on as a team. "It became an opportunity for them to work together and go into a business," Kuban explained.
Through FranNet, Leslie Kuban has placed countless people with franchise opportunities that fit their unique needs, lifestyles, and talents. On the Atlanta Small Business Show, she discussed her process for matching investors with the franchises that best suit them.
"It starts with a conversation about, 'What do you want your life to look like?'" Kuban explained. "If people are looking at making a change from what they've been doing- if they want to start a business- it's because they want their life to look a certain way. They want to use their talents. They want to control their lifestyle a bit better. Maybe they want to work with family members. It's different for every person."
But how do people narrow down the thousands of options to arrive at the right franchise opportunity for them? Leslie advises her clients to approach the matter the way they would if they were shopping for anything else. "You kind of start with your shopping list before you go to the mall of opportunities," she says, adding, "The process is really creating a strategy for shopping first, so we can narrow it down to the shortlist of options that make the most sense, so you don't spend forever and a day trying to figure out what you should do."
Leslie also talked about how she gives clients like the Amundsens the opportunity to view various franchise models across multiple industries in order to hit on the one that truly excites and inspires. "I think it really helps a person's learning process to look at some really different things- let's look at some consumer-oriented businesses, something in food, home service, business-to-business," she explains. "A lot of times, people know they want something, but they don't know what! So we tease out what a person's real preferences and priorities are by doing some comparative shopping." In the case of the Amundsens, Leslie was able to show them Le Macaron- a franchise opportunity that appealed to Lisa's hospitality and customer service background while giving Dave a new challenge in managing the financial and accounting side of the business. "I want to make people happy- that's my thing," Lisa said, adding,  "I feel like this is a 'happiness' brand! That's what I was most excited about."
The Le Macaron dessert franchise opportunity was only one of five franchise concepts Leslie presented to the duo, but it was the one that sparked their imagination and spoke to them. With one location now open and a second on the way, Lisa shared with viewers that the couple sees at least one more Le Macaron store in their future. 
Lisa and Dave Amundsen just opened their first Alpharetta, Georgia location in the North Point Mall and are slated to open a second location later this year. The couple has already found themselves in high demand among the pastry lovers in their community- they are scheduled to cater a dessert reception at an upcoming Oscar night gala in nearby Sandy Springs. The February 9 celebration benefits the AFLAC Cancer and Blood Disorders Center at Children's Healthcare of Atlanta. We thank Leslie Kuban of FranNet Atlanta for introducing the Amundsens to the Le Macaron opportunity, as they are a wonderful addition to our dessert franchise family!
Do you, like the Amundsens, wish to learn more about owning a chic, European-style café? We invite you to visit our franchise website to learn more about our opportunity.
Keep in touch with Le Macaron French Pastries!
Like us on Facebook.  Follow us on Instagram. Connect with us via LinkedIn. Subscribe to our YouTube channel.