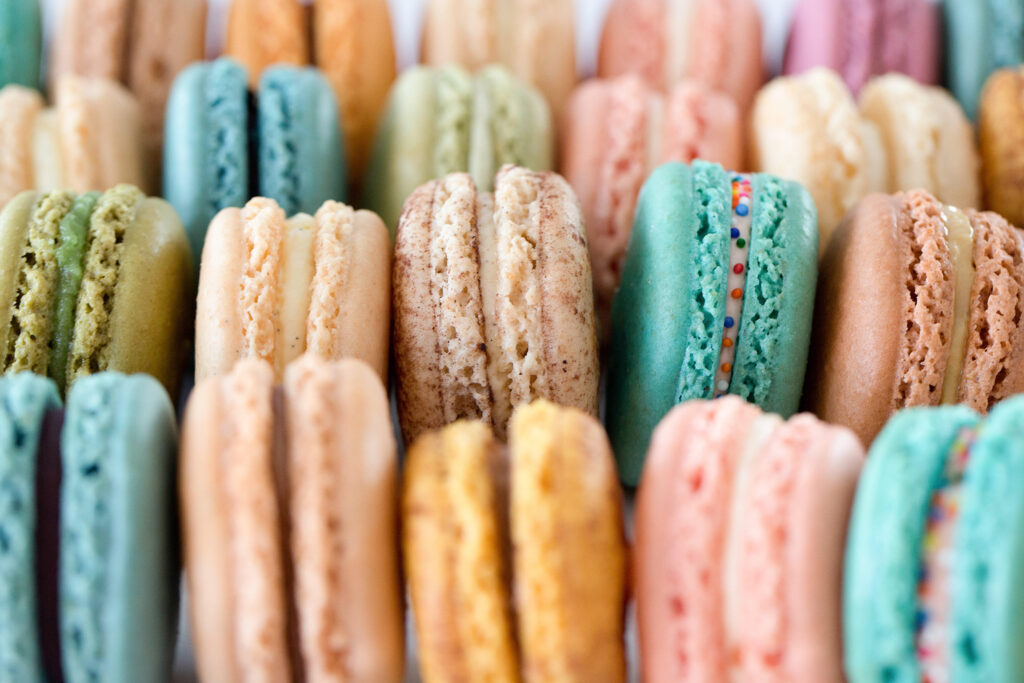 We like to think of ourselves as a big family here at Le Macaron French Pastries. So, it's fitting that the newest Le Macaron location at the Belden Village Mall in Canton, Ohio is a family operation! A recent article from a local publication, The Canton Rep., highlighted the franchise's owners, the Freshwater family, and their plans for their new French bakery franchise.
You may have heard of the Freshwater family before, as they are no strangers to the Le Macaron brand. The family's relationship with Le Macaron French Pastries began in 2018. Luke Freshwater, a regional sales representative for a pharmaceutical company, decided to open a Le Macaron cart in the Mall at Robinson, a shopping center outside Pittsburgh, Pennsylvania. While Freshwater intended to keep his sales job concurrently, he wanted to run the cart as a fun side project. He decided to get his whole family involved, as parents John and Nancy would drive from their home of Dover, Ohio to Pittsburgh to help Luke run his cart. "We wanted something that everybody in the family could do," Luke explains. While Luke would handle the books and officially own the French bakery franchise, his father John would manage the operations. Meanwhile, Luke's mother, Nancy, and his wife, Megan, would help with sales and training.
Come 2020, Luke's primary job relocated him to Columbus, Ohio. While this may have seemed an unfortunate turn for many, for the Freshwater family, it was a blessing in disguise. For John and Nancy, it meant a much shorter drive to work. For Luke, it meant being closer to his family. The family embraced the change and relocated their cart to the Belden Village Mall in Canton, Ohio, not far from Columbus and very close to Dover. They officially opened on January 6th and have gotten off to a tremendous start. The cart is the second Le Macaron location in the state of Ohio, and people from all over the region are flocking in droves to Belden Village Mall to get their macaron fix!
It's not just the delectable French pastries that are leading the Freshwater family to success, however. The family has a tremendous occupational background, having worked in a variety of different fields. In addition to owning a Le Macaron location AND having a pharmaceutical sales job, Luke is a captain in the Army Reserve and an ROTC instructor at Capital University. Additionally, he served four years in the Army after graduating college, where he led bomb squad units and completed an eight-month tour in Afghanistan. Luke takes after his father's work ethic. John is currently a retired teacher who has spent nine summers in Idaho, working as a smokejumper fighting forest fires. With such an impressive employment record, it seems natural that the Freshwater family is finding success with Le Macaron.
Having a family business is something that many families dream of, but few actually realize. With Le Macaron, however, our flexible business model allows for Franchise Owners to run their business whatever way works best for them. Le Macaron offers Franchise Owners three business models designed to cater to their needs. These include the Le Macaron cart, the kiosk, and the cafe, our largest and only brick-and-mortar option. While every model has a different footprint, none require baking. That's right, Le Macaron's macarons are made fresh in their confectionary kitchens, then distributed to each franchise location. By not having to bake every day, Franchise Owners can focus more on efficient operations and creating an authentic French experience for their guests. Additionally, this takes a significant amount of stress off of Franchise Owners. It's no wonder that Le Macaron has some of the happiest Franchise Owners out there!
Le Macaron Franchise Owners can rest easy knowing that the Le Macaron support team has their back through every step of the franchising process. This can include but is not limited to finding real estate, training new staff, or pushing marketing efforts. Prior to opening a franchise, new Le Macaron owners are taken through a comprehensive training course, helping them to open their French bakery franchise with the utmost confidence. Once the franchise is up and running, it's common for Franchise Owners to receive visits from Le Macaron Founders Rosalie and Audrey Guillem! Our Franchise Owners are not simply treated as employees of a corporation. They are made to feel part of a family and are truly able to have their voice heard.
Owning a French bakery franchise with Le Macaron is more than just another business venture. It's a way to have the career you've always wanted, the way you've always wanted. Just take the Freshwater's story. The family was able to incorporate the needs of each family member into their business while having more support than ever before. And did we mention they have the potential for tremendous profits?
So what are you waiting for? Find the career you've always been dreaming of and visit our franchising site today!