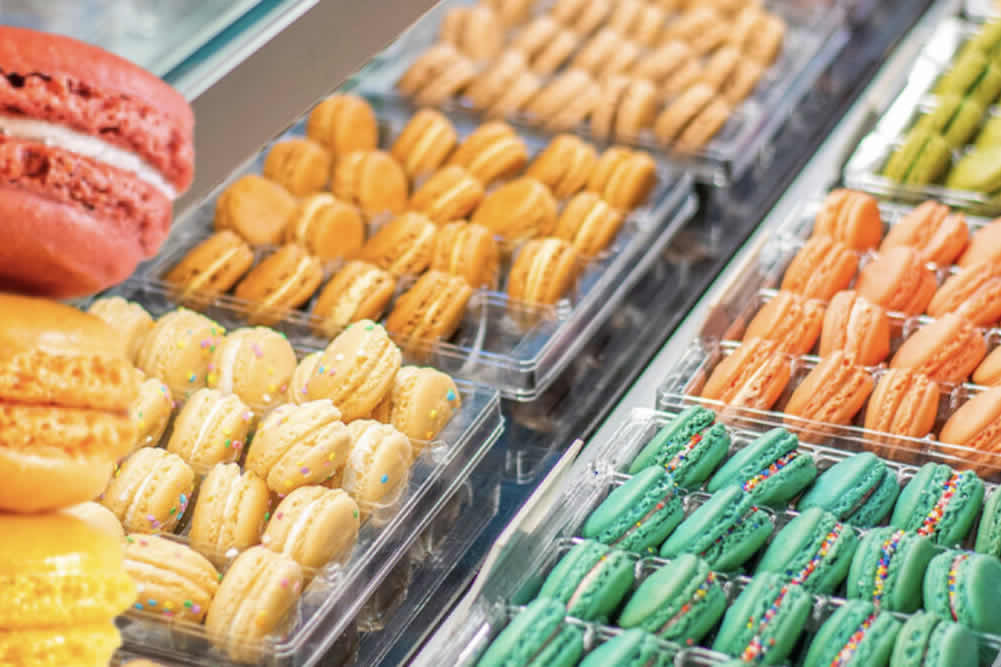 Le Macaron in Rio Expected to Open in Coming Months
written by MCS Staff April 4, 2023 – Original Article
Last October we let you know that French pastry shop Le Macaron is coming to 7 Grand Corner Ave (next to BurgerFi) in Gaithersburg's Rio. The shop is expected to open in the coming months, and is owned by MoCo residents Natalia Mejia and Camilo Beltran. Le Macaron, a Florida-based pastry shop now has more than 70 locations across the US, with more locations on the way as franchisees are opening in shopping centers like Rio, food trucks, and kiosks in malls.
Menu items at the upcoming Rio location will include macarons (available in 20 flavors), gourmet chocolates, French gelato, specialty European style coffees, classic French pastries, and homemade candies. The store is scheduled to open in "Spring 2023", but our best guess would be late spring based on where it's at in the construction process. More on the history Le Macaron, per its website:
"Founders, Rosalie Guillem, who was living in Florida and her daughter, Audrey Guillem-Saba, living in France, had a dream to share delectable French macarons with the world and to reunite their family. The family, originally hailing from France, were surprised to find that the American take on the "macaron" was often simply sugar spun into a cookie shape or confused with the familiar coconut cookie "macaroon". They knew that with a little consumer education, and by treating the American palate to true French macarons, they could bring a taste and texture sensation to the marketplace.
In 2009, Rosalie and Audrey began sharing their delectable macarons with the American consumer market and opened their first Le Macaron French Pastries®. Because of the frequent requests from customers to open a Le Macaron French Pastries® pastry shop in their community the company began franchising in 2012.
Our niche concept is unique, with very limited competition. Today's consumers are eager to engage with their food in new, creative ways. They want flavor and texture, quality, and presentation; they are more health conscience. Each of our signature pastries is handcrafted by our team of French chefs at our Le Macaron French Pastries® commissary.
Our true French macaron is made with the finest gluten-free ingredients, no preservatives and is about 80 calories each. Beyond the signature macarons, our menu includes gourmet chocolates, French gelato, classic French pastries, European style beverages and homemade candies. Some locations may also serve a variety of wine and sparkling wine.
Our French pâtisseries are a modern European design with no on-site baking providing refined operations so minimal staffing is required. Our franchisees leverage streamlined locations which provides time to focus on excellence in customer service and opportunities for additional avenues of revenue."