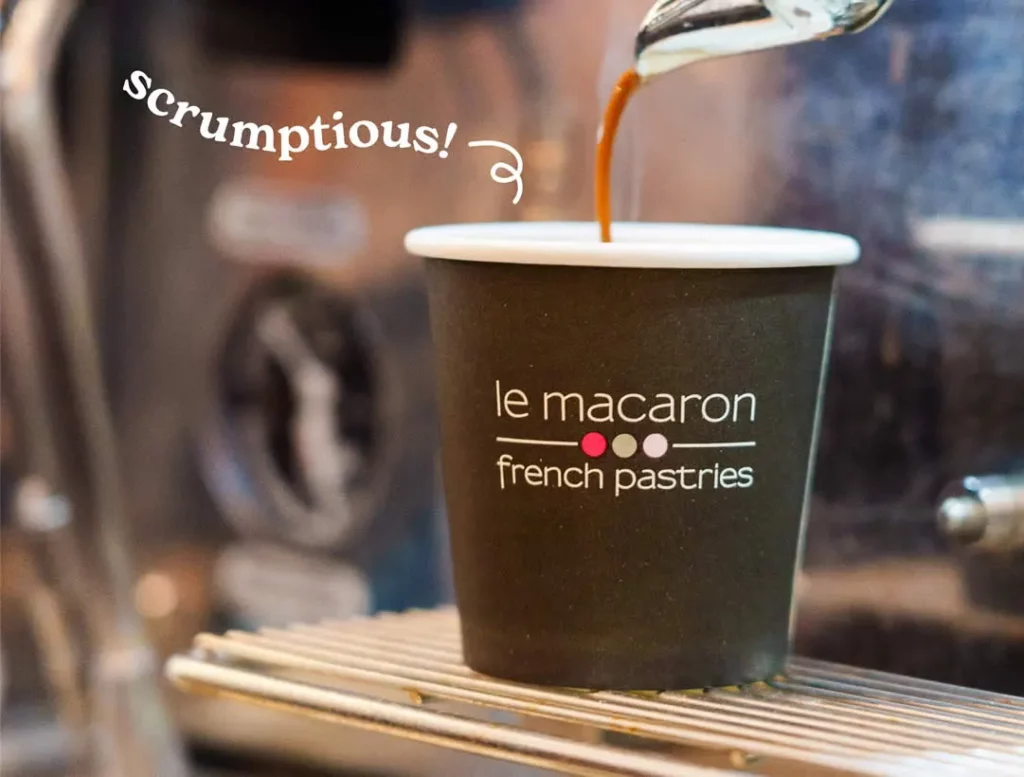 We're beyond excited to extend a warm "Bienvenue" to our newest Le Macaron French pastry Franchise Owner David Craig! David will be opening his Le Macaron location in Rochester Hills, Michigan.
Thanks to his extensive background in sales, marketing, and business management, David recognized the location as ideal for his soon-to-be-built Le Macaron café, due to its heavy foot traffic, affluent neighborhood, and elegant backdrop that invites gathering and conversation. "I've lived in Rochester Hills for over 15 years," he says, "so I know what's going on from a community standpoint."
As a member of the advisory board at the Oakland University Business School, David certainly has the inside scoop on what will make his Le Macaron pastry franchise location a hit.
David comes to us from the automotive industry, where he spent the majority of his career before deciding to switch gears and open a macaron franchise. "I have been in the automotive industry for an awful long time," he chuckles. Most of that time was spent selling over $900 million in automotive components, or, as he puts it, "the things that make your car go that you never see."
Eventually, after becoming somewhat disenchanted with the industry where he had spent so much of his professional life, David decided it was time to do something else, and began searching online for an opportunity that would lead to the next step in his career.
"I had a gentleman from The Entrepreneur's Source reach out to me," David recalls. The franchise broker introduced him to a variety of franchise concepts, including the Le Macaron French bakery franchise opportunity. Having traveled to Europe and tried macarons some years before, David immediately remembered how much he'd loved them! After doing some research on Le Macaron, David was ready to take the next steps toward owning his own pastry franchise location.
One of the key components of David's Education Process with Le Macaron was getting to speak with founder Rosalie Guillem, a phone call he remembers fondly. "We spoke for over an hour!" he exclaims.
David mentions that he found Rosalie to be a consummate professional, yet displays an enormous amount of passion and affection for her brand and her products. "It was just a really nice, warm meeting," David remembers. "I thought she was very much a professional, but I could see her passion. It is very much a part of her, and I saw that and admired it. She knows her stuff from a business standpoint- she walked me through a typical day in the life of a Franchise Owner, like seasonal offerings, core offerings, things like that."
Between speaking with Rosalie and traveling to our flagship location and confectionery in Sarasota, Florida for his Discovery Day, David says he was able to appreciate the quality and care that went into the preparation of the macarons and other French pastries he would soon be selling.
"We went and had our meeting at the café in Sarasota, which is the original café, and from there went to the confectionery, then went and toured a kiosk," David remembers, noting how impressive it was to see the process unfold from start to finish.
The ability to tour both a café and a kiosk immediately resolved a question he'd been mulling over prior to Discovery Day. "I was torn between the kiosk and café business models, and then I saw the café and said, 'Oh, definitely, cafe!'" he says.
This epiphany came from the fact that the 'people' aspect of owning a Le Macaron French pastry franchise is, in many ways, his favorite part. "I want people to come in and sit down, enjoy your macaron, enjoy your pastry, have an espresso, and just take a load off your feet," David explains.
"I want that interface. I want to make suggestions on different macarons and show you some of the new things we have as far as treats. I want to build a relationship that makes you want to come back, makes you want to tell all your friends."
Like many of our Franchise Owners, David did not have any previous experience in the bakery industry, something that originally concerned him until he had what they call an 'aha moment.'
"For me, it was this: I'm thinking, 'Wait a second, buddy, all you've known is automotive. Now you're thinking about selling delicacies and French pastries?' I was thinking I was crazy. The 'a-ha' moment was realizing that I already have the skill set to do just that," he remembers. "I know how to sell products- large or small. I know how to interface with customers."
David's enjoyment of interacting with people is sure to come in handy when his first Le Macaron French pastry franchise opens its doors. The initial experience of seeing customers come into his café on Opening Day is, he says, what he currently looks forward to most of all.
"I'm looking forward to my grand opening," he says, in a voice rich with emotion. "I very much am. I want to see the faces, hear the oohs and ahhs, I want to see people coming in. I want to see a lot of activity. I'm looking forward to that opening day. I just am!"
If you've been searching for a unique, elegant franchise opportunity that offers you the chance to see your dream of entrepreneurship come to life, Le Macaron French Pastries is currently seeking new Franchise Owners in select territories! Click here to visit our dedicated Le Macaron franchise website and find out why we're not your typical cookie franchise.