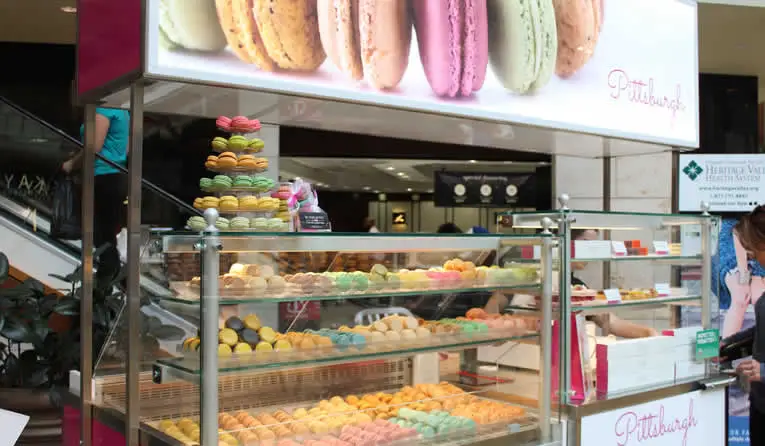 Le Macaron is coming to Metro Atlanta, thanks to our newest Franchise Owner Kerwin Glasgow! This past April, Kerwin finally decided to leave his corporate career behind for something a bit sweeter! Keep reading to learn why he chose our dessert franchise!
After working in the automotive sales industry for 19 years, Kerwin Glasgow knew it was time for a change. The repetitive nature of the corporate lifestyle and the tough hours of his previous career lead to him to want to explore other options. Ultimately, Kerwin knew that he wanted to work for himself and create something of his own someday. Having always had an entrepreneurial spirit, he decided to start "flipping" houses as a side hobby. While this was fun for him, Kerwin knew he needed a more solid career. In his own words, "I needed something more stable. Instead of having to fly from here to there, going to auctions to buy and sell houses, I wanted to stay still."
By chance, one day Kerwin and his teenage daughter were at the mall and stumbled across a Le Macaron kiosk. After trying some macarons, he was intrigued and his daughter persuaded him to look into investing in our dessert franchise. He was attracted to the fact that there was no baking required, less work, and he could have more flexibility in his schedule. In other words, he could be his own boss!
The next step for Kerwin was to attend a Le Macaron Virtual Discovery Day and meet the Le Macaron co-Founders, Rosalie Guillem, and Audrey Guillem-Saba. For him, this was a very valuable experience, as he got to understand more about the brand's story and what it stood for. "Everyone seemed hands-on and everyone was on the same page," Kerwin remarked. "They were very organized and knew what they were doing. I liked that Rosalie and the rest of the team were family-oriented." This affirmed to Kerwin that he was making the right decision and he knew he was ready to move forward.
Fast forward several weeks, and Kerwin has nearly completed his initial training. He has also met with fellow Le Macaron Franchise Owners  Lisa and Fred Amundsen  who have helped show him the ropes! He plans on having his dessert franchise up and running within the coming months and as he puts it, "I'm just looking forward to finally opening up!"
In addition to the ideal working environment and flexible schedule, Le Macaron Franchise Owners like Kerwin enjoy tremendous support from our corporate support team. Our team truly gets to know each Franchise Owner like family and treats them as such. They have our Franchise Owners' backs through thick and thin and help them with every step of the franchising process. This includes everything from finding real estate and training new employees to pushing marketing efforts and expanding the reach of their franchise. Not many franchises can compete with this!
Did we mention that our Franchise Owners have the potential for tremendous profits and unprecedented growth? In 2019, our Franchise Owners saw average revenues of $473,877. For an initial investment starting at $90,350, one can see the capability. Additionally, revenues come from a variety of sources, something that few dessert franchises can match. Our Franchise Owners gain revenues from macaron sales, as well as gelato, cakes, chocolates, waffles, and sales of other types of French pastries. By diversifying our product offerings, our dessert franchise can cater to more types of customers, and ultimately get more people walking in your doors!
Last but not least, is our simple yet easily scalable business model, that primes our Franchise Owners for success! We offer several types of models, aimed at catering to every type of entrepreneur. For those looking to have a smaller footprint, we offer our kiosk or cart concepts, designed to go where your customers are. These have a low start-up cost of $90,350 and are usually placed within malls or high traffic shopping areas. For those looking for something larger, we offer our cafe business model. Starting at $149,240, this model is designed at recreating the authentic French bakery experience, sure to keep customers coming back for more! Whatever your model choice may be, all of our dessert franchises require no baking, meaning our Franchise Owners have more time to focus on getting to know their customers and offering an authentic French experience!
As we move deeper into 2020, we are ever more thankful for our amazing Franchise Owners like Kerwin Glasgow who give our brand life. We're extremely excited to have him on board with us and can't wait to see what the future brings!
Now that you've seen what brought Kerwin into our dessert franchise family, why don't you take a look at it for yourself? Visit our franchising site f for more information!