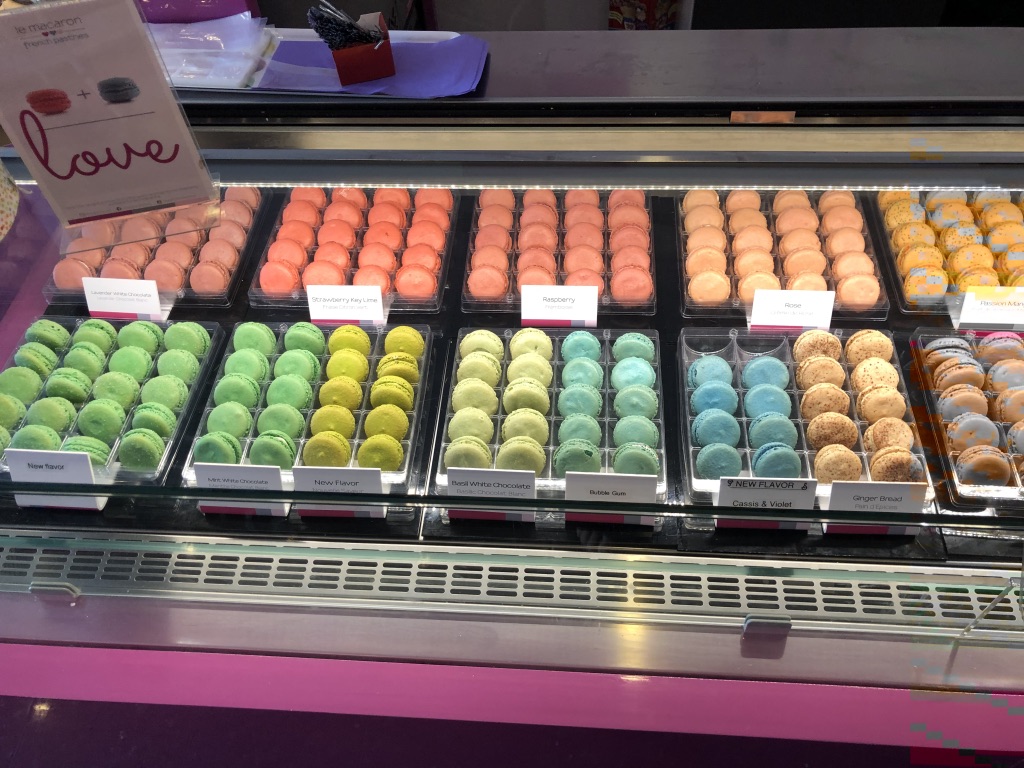 When most Americans see the word macaron, they think of the coconut cookie that is often sold in bulk quantities around the holidays. However, they are actually thinking of the macaroon. Although the two words are nearly identical, the French macaron is in fact quite different from the macaroon, a delicate pastry consisting of two small almond cookies sandwiched together with a flavored icing, jam, or ganache between them. Rich in both flavor and history, the French pastry is only recently becoming popular in the United States because of bakery franchises such as Le Macaron French Pastries.
Although having originated in Italy, the macaron was actually popularized in France. The word macaron is derived from the Italian word, maccherone, meaning paste, referring to the filling that is found between the two cookies. There are limited recollections of the pastry during medieval times, first being seen in Venetian monasteries in the 8th century A.D. The delicacy was introduced to France when Queen Catherine de' Medici of Italy married King Henry II of France in 1533. Medici brought her pastry chefs with her when she moved to France, who in turn brought their macaron recipes with them. During the French Revolution, macarons began to become more known throughout the country when several nuns baked and sold the pastries to pay for their housing when seeking asylum in the town of Nancy. However, the 1930's were when the pastries really began to take off throughout the country, as macaron shops began popping up around Paris and pastry chefs began experimenting with macaron flavors and different fillings, such as jellies, liqueurs, and spices. Today, the pastries are vastly popular around Europe and quickly becoming sought after in North America. As they gain traction in North America, more and more flavors and variations are evolving, as French culinary methods mix with American tastes.
While there are several traditional methods to make the macaron, the French method is by far the most favored. This technique involves whisking egg whites together until a meringue forms, then slowly combining them with sifted, ground almonds and powdered sugar until a desired consistency is reached. The last, and most important step is macaronage, or the process of knocking air out of the macarons, giving them their unique light, fluffy texture. Le Macaron is proud to be one of the few cookie franchise opportunities in the United States that still follows this authentic, traditional French recipe. Furthermore, the bakery franchise keeps its macarons as natural as possible, handcrafting them with no preservatives and the finest non-gluten ingredients, only about 80 calories each. This difference in quality can not just be seen, but also tasted and the franchise is quickly setting itself apart from the competition as a result. Currently, Le Macaron has 41 locations in the United States with several more planned in the coming year.
Aside from the authenticity of the bakery franchise, it also sets itself apart from other cookie franchise opportunities based on its flexible, streamlined business model and strong Franchise Owner support system. Potential Franchise Owners have a variety of business models to choose from including a cart, kiosk, or the larger cafe model, allowing them to find the best fit for their lifestyle. While the owner has to be involved in many parts of the business, the baking and preparation of the macarons and other delicacies are all taken care of at one of several Le Macaron Confectionary Kitchens. Each morning, fresh macarons are dropped off at the various franchise locations. Without having to worry about food preparation and baking, the Franchise Owner is given much more time to focus on running their business efficiently and providing an authentic, French experience to its customers. When it comes to training, support, and marketing, the Le Macaron support team has its Franchise Owners covered, assisting them with everything from finding a location for their franchise and helping train new employees to assisting in long-term marketing efforts. Franchise Owners are truly supported through every aspect of owning a Le Macaron franchise.
Through its commitment to authenticity and its exceptional franchise model, Le Macaron has brought generations of French culinary prowess to the American market with its "little luxuries that make people smile." The macaron is more than just a pastry. It is a way to learn about a completely different culture, to take a trip through history and indulge in flavors that have remained truly timeless. Le Macaron is proud to bring this experience to every customer who walks through its doors.
To bring an authentic French culinary experience to your community, visit our franchising site here.
Like us on Facebook. Follow us on Instagram. Connect with us on Linkedin.