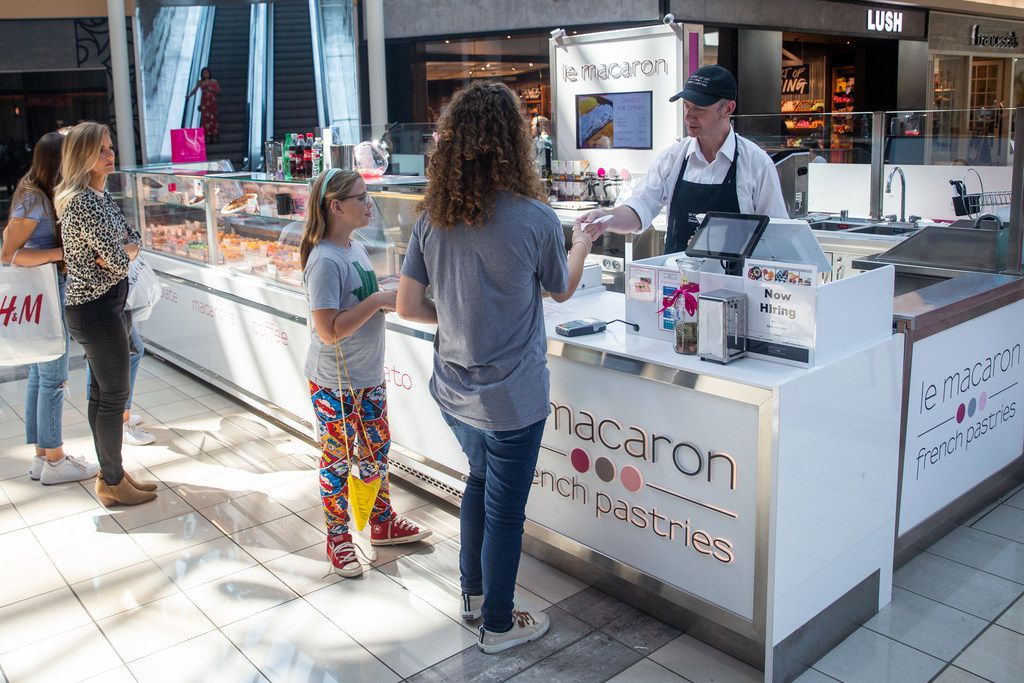 In a state likeTexas, where bigger is better, it's pretty special to be the next big thing! Le Macaron French Pastries has a number of cookie franchise opportunities across the great state of Texas, with a focus on opening a dozen new locations in the Dallas/Ft. Worth area over the next three years. We were featured in an article in the Dallas Morning News this week discussing the many reasons why we feel that the Le Macaron cookie franchise is poised to do especially well in North Texas.
As Dallas macaron enthusiasts can tell you, there are already two Le Macaron cookie franchise locations open for business in the "Big D"- one in the Golden Triangle Mall in Denton and the other in Stonebriar Centre in Frisco. Since the popular local food blog Eater Dallas named the macaron the "pastry du jour" of 2015, the delightful French cookie has been popping up all over town, and is only seeming to grow in popularity. One thing is for sure- DFW's affinity for the sweet, delightful taste of an authentic French macaron isn't going anywhere soon, and Le Macaron plans to extend enough cookie franchise opportunities in and around Dallas to make macarons highly accessible for everyone in town.
Dallas isn't the only Texas city experiencing a macaron craving. New Franchise Owner Zamira Farhat recently opened a Le Macaron cookie franchise location in San Antonio's popular Shops at La Cantera. TheSan Antonio Currentreported on the grand opening, and mentioned that Farhat plans to open a second Le Macaron location in the nearby city of Alamo..
In addition to Dallas-Ft. Worth and San Antonio, the quirky and vibrant capital city of Austin is about to become home to a another Texas-based Le Macaron cookie franchise, courtesy of Jason Bolsinger. "I chose Austin for a couple of reasons," the Army veteran told us in a July interview. "Le Macaron isn't there yet. Also, I'm a Texas boy at heart and I have a lot of family out that way who can check in on the place."
The Lone Star State has certainly proven to be a prime market for Le Macaron French Pastries, whose café locations in Cypress and Houston are also enjoying success and popularity among community members. Our company is excited to award even more cookie franchise opportunities to Texan entrepreneurs as we continue our expansion. Thanks to the simple "no bake" operations, low initial investment, and highly scalable business model, the Le Macaron opportunity is ideal for first-time business owners as well as seasoned investors looking to add a dessert franchise to their portfolio. Our three distinctive models- the European-style café, modular kiosk, and mobile cart- allow for a flexible footprint previously unheard of in a dessert franchise! Franchise Owners have the opportunity to create multiple streams of revenue by opening several different location styles within their city. The mobile kiosk option allows them to capitalize on high visibility and foot traffic in areas that may not be able to accommodate a traditional café-style French pȃtisserie.
Additionally, Franchise Owners can count on the macaron to continue to be a popular treat in years to come. The naturally gluten-free, low calorie macaron is an optimal choice for satisfying a sweet tooth while maintaining a health-conscious lifestyle- something that is becoming more and more important to people across the country. Our macarons, French gelato, and other French pastries are all mindfully prepared in our Sarasota, Florida confectionary and contain no preservatives, no artificial additives, and only the highest quality ingredients, which makes Le Macaron the perfect choice for a rewarding, guilt-free treat.
Co-Founders Rosalie Guillem and Audrey Guillem-Saba began franchising Le Macaron French Pastries in 2012, and there are now over 50 locations across the United States, with room for even further expansion in coming years. With six Le Macaron cookie franchise locations already open and thriving in Texas, it's easy to see how our plans for expansion in the state will be a success!
For Texas residents who have always dreamed of owning a business, Le Macaron may be just the right fit for you! We are currently awarding cookie franchise opportunities in cities throughout Texas, as well as in other select cities across the U.S. It is our dream to bring the uniquely satisfying taste of an authentic French macaron to people all over America, and we are quickly beginning to realize our vision! If owning a chic, upscale, European-inspired café in your community sounds appealing, now is the time to discover the Le Macaron opportunity. Find out more about our rapidly-growing cookie franchise here.
Keep in touch with Le Macaron French Pastries!
Like us on Facebook. Follow us on Instagram. Connect with us via LinkedIn.