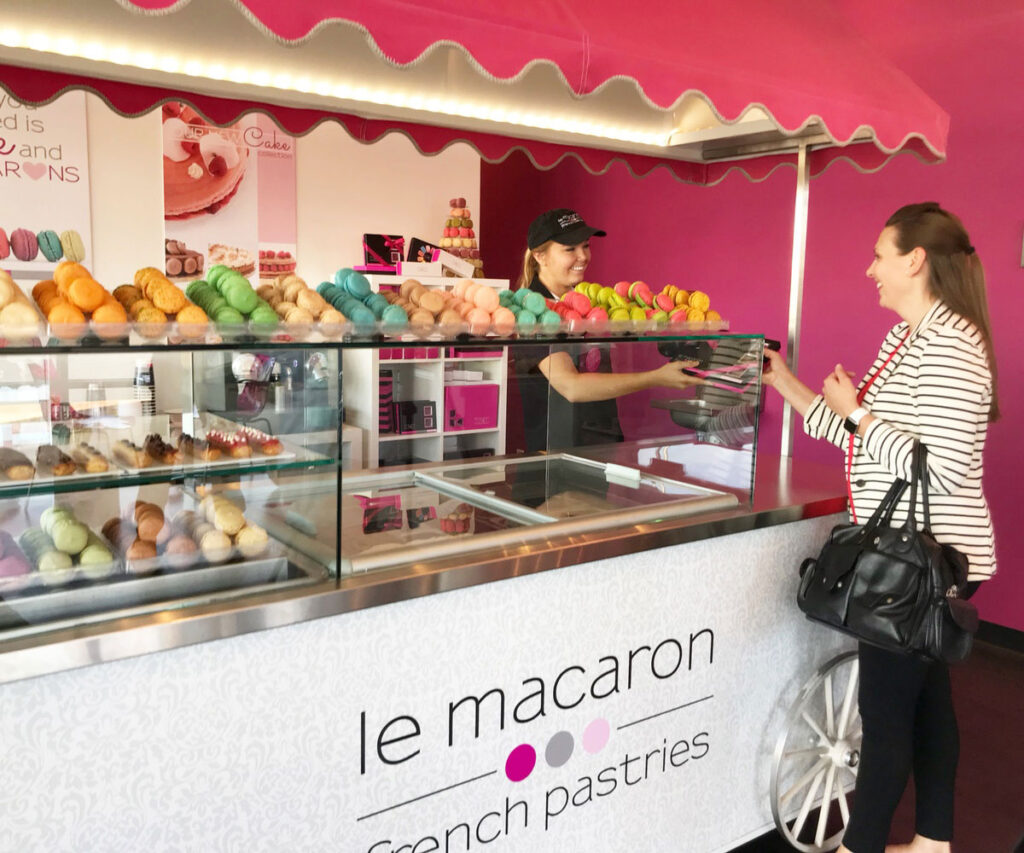 Running a bakery can be extremely difficult. From making sure you have enough ingredients to hours spent baking, there's hardly any time left to deal with the other aspects of running a business. And don't forget about the costs involved with staffing and running a kitchen and all of that expensive baking equipment. For someone just getting started in the world of entrepreneurship, owning a bakery may be out of reach. At Le Macaron, we decided that everyone who is interested in the retail bakery industry should have a chance to run their very own bakery. That is why we developed an extremely simple business model for our bakery franchise which eradicates more than half of the work and costs of running a bakery.
At Le Macaron, our number one priority is to sell quality, authentic macarons. The macaron cookie can be quite difficult to bake, so we decided to hire a head chef instead of leaving that task up to our franchise owners. Didier Saba, French pastry chef extraordinaire, takes care of all the baking so our franchise owners don't have to! This means that you can own your very own cookie franchise without ever having to bake a day in your life. As a Le Macaron owner, your job is to run a business – Didier takes care of the cookies.
Why Own a Franchise With 
Le Macaron French Pastries?
Seeking Passionate Individuals to 
Join our Bakery Franchise
While previous bakery experience is certainly a plus, it is not a strict requirement for Le Macaron bakery franchise owners. Our training program was developed to train both seasoned professionals and emerging entrepreneurs. Typically, we look for the following characteristics in potential franchise owners:
A strong sense of community and honed networking skills.
Belief in and passion for the Le Macaron business model, products, and cookies!
Passion for creating a unique and quality experience for all guests. Customer service skills are essential.
A business savvy mindset and a willingness to learn and grow.
Strong leadership skills.
If you think you've got what it takes to join our bakery shop franchise, we would love to hear from you! With 50 current locations, Le Macaron is growing quickly across the nation and we need a strong network of passionate, responsible franchise owners.
The Sweetness of 
Success
We have been able to grow so rapidly simply because we offer a great product. American consumers love sweets and we have found an authentic niche within the $35 billion retail bakery industry. Our product, based off history and tradition, sparks the interest of consumers. Once they take a bite of our macarons, they become customers for life. With chic interiors and a comfortable atmosphere, Le Macaron is a sophisticated, high end bakery shop franchise. Our concept has done so well, in fact, that our franchise owners average about $440,857 in annual sales. If you're excited about this level of success, feel free to contact us today to learn more about our successful bakery franchise.