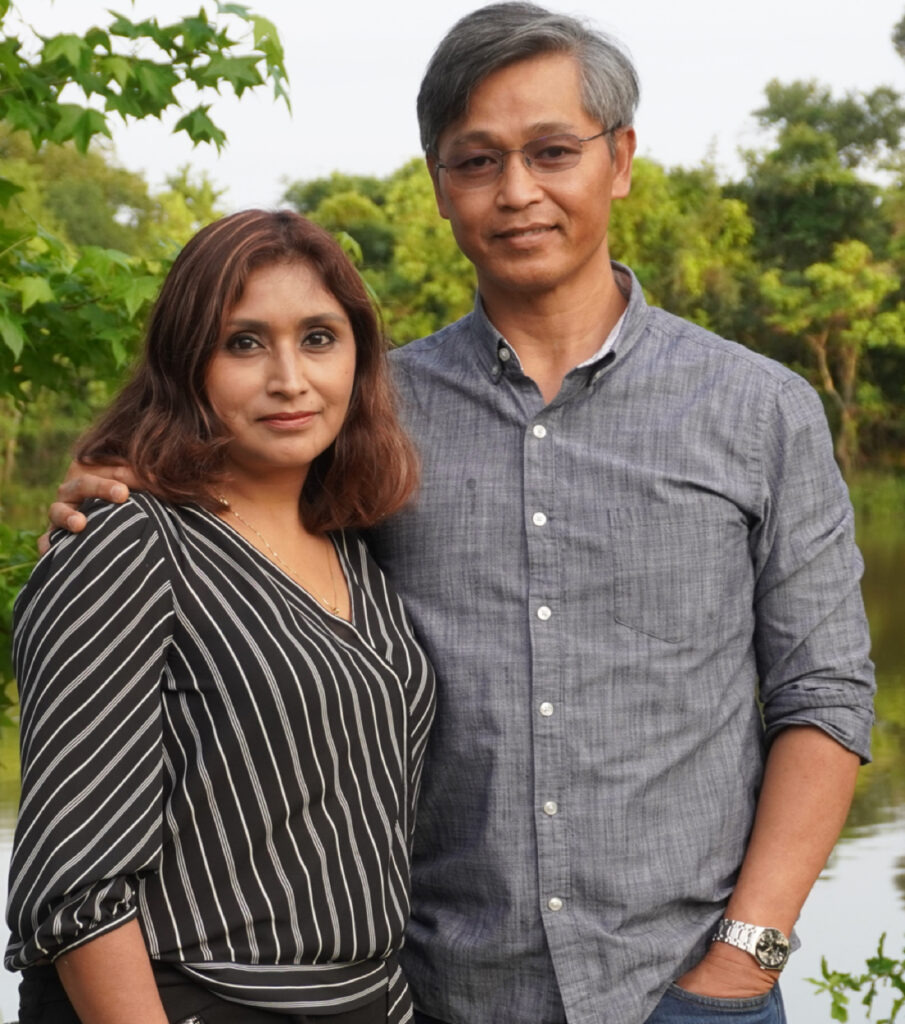 We are excited to introduce one of our newest Le Macaron franchise owners, husband and wife team, Angelica Covarrubias and Moni Mau from Houston, TX.
We caught up with Angelica and Moni to learn more about what made them decide to invest in the Le Macaron franchise opportunity, their experience with our Mutual Evaluation process, Discovery Day, and more! Here's what Angelica and Moni shared:
Q: What is your personal/professional background?
A: We met in college almost 20 years ago and have been married since and have 2 daughters together—one is 14 and the other is 7. Moni has been working for a major airline for 32 years as a software engineer and retired from there last year. He is currently working for an IT consultant company as a software engineer as well. Angelica managed her own drying cleaning business for 4 years while taking care of the two girls at home when they were small. We both always dreamed of owning our own business. We've tried a small taco taqueria food-truck to a dry-cleaning business, but now we managed to save enough for our next venture. We are extremely excited and looking forward to opening our Le Macaron at Vintage Park in Houston.
Q: What are your personal hobbies or interests?
A: Moni enjoys lifting weights, jogging, biking, scuba diving and bird watching. Angelica enjoys aerobics and family gatherings.
Q: How did you first become aware of Le Macaron?
A: Bethel Siso at findabusinessonline.com reached out to Moni through LinkedIn and later introduced him to an IFPG consultant, Natalie Gold who presented us with a few franchise opportunities including Le Macaron.
Q: Why is Le Macaron the right fit for you?
A: We were looking for a simple business, yet prestigious and elegant, but doesn't require a lot of preparation skills and can be family operated. Le Macaron is a perfect fit for us. This is a business we can bring our kids to work and they can be a part of when they are older.
Q: What did you like about the Le Macaron franchise opportunity?
A: We can see the company is growing and has great potential and for us to grow with it. After meeting Kera, Rosalie and team, through their Mutual Evaluation process, we are even more excited to be part of the Le Macaron family because we're made to feel very welcome and supported.
Q: What did you like about meeting Le Macaron's Founders?
A: Rosalie is very 'down-to-earth'. She made us feel very comfortable and welcomed immediately which made us very excited to be part of her venture and help it grow.
Q: What did you like about Le Macaron's Discovery Day?
A: The entire team made us feel very special. They gave us their undivided attention and introduced us to each team members, showed us the entire operations from marketing to preparing the macarons, cakes and gelato. Greg was on his way to an owner's grand opening, but he took the time to welcome us as well.
Q: What was the "A-Ha!" or lightbulb moment that made you want to franchise with Le Macaron?
A: When we read the company's background about Rosalie and Audrey's dream of sharing their love of French delectable macarons to the entire world and reunite the family, we feel connected with people who follow their dreams and share their passion with the world. Also, when we visited the store a Cypress, we really like the environment of the business and share the joy with customers who treat themselves with great coffee and sweets in a European setting without having to travel miles away.
Q: Why did you want to become an entrepreneur?
A: We are hard-working and business-oriented people. We have been working hard for others, but we never lose sight that someday, when opportunities arise, we will be working hard for ourselves on something we can proudly say our own.
Q: What do you think will make you successful?
A: Our ambition, commitment and excitement to take on our dream.
Q: What set Le Macaron apart, in your eyes, from other franchise opportunities in the Food/Fast Casual Industry?
A: Quality. We want to sell something that people enjoy eating and sharing with their families with laughter. Something that they can award themselves in special occasions such as special anniversary or be that of a long day of work, without feeling guilty by eating something that not very healthy.
Q: What has been your best experience with Le Macaron's corporate team so far?
A: We feel supported and welcomed not just on the discovery day but part of the Le Macaron family.
Q: What advice would you give to a potential franchise owner?
A: Follow your dream and take calculated risks to achieve it.
Q: How much did Le Macaron's emphasis on quality, authentic French pastries, etc. influence your choice to franchise with them?
A: If we don't know any better, we would think that's the central theme of Le Macaron. The qualities that's appealing to us is the authenticity and quality of the product and service.
Q: What are you looking forward to most about owning your own Le Macaron?
A: Having fun with our family, share the joy with our customers and live our dream.