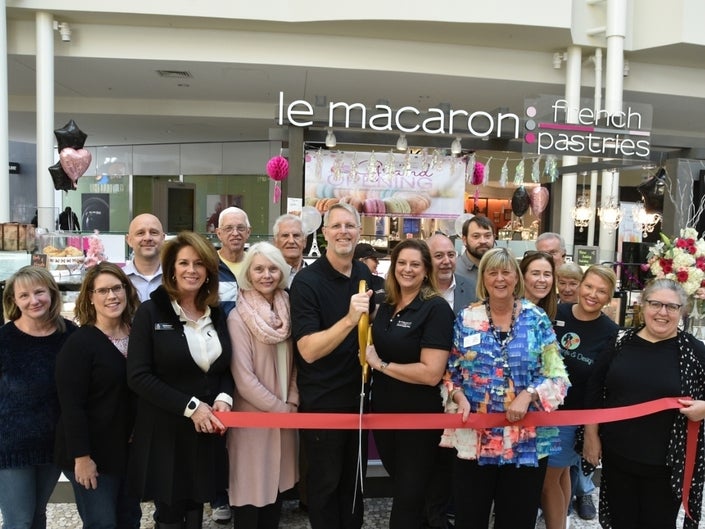 We are always pleased and proud to welcome new Franchise Owners to our macaron business, and the recent addition of Lisa and Dave Amundsen is certainly no exception! The Amundsens are expected to open their first  Le Macaron French Pastries location in Alpharetta, Georgia's North Point Mall later this month, and have a mobile kiosk location coming this fall.  Flavors Magazine, , which spotlights events, trends, and other notable happenings in Atlanta's dining scene, mentioned the Amundsens' soon-to-open Le Macaron pastry franchise location in a recent article.
We are thrilled to bring our delightfully unique concept to the Metro Atlanta area, and wish Lisa and Dave unparalleled success as they introduce their community to the elegant simplicity of our macarons, gelato, and more in their Le Macaron café. However, we simply can't wait for the Amundsens' autumn debut of the first Le Macaron mobile kiosk in America! Since unveiling this compact business model at the beginning of this year, the excitement has been building around the mobile kiosk for both Franchise Owners and corporate team members alike! Never before has our one-of-a-kind French pastry franchise opportunity been more sweetly scalable! We look forward to the enthusiasm and success that we expect our mobile kiosk model to produce.
The Le Macaron French pastry franchise concept was born of a French mother-daughter duo's desire to bring the perfectly petite, deliciously delicate macaron to American soil. Founder and CEO Rosalie Guillem, along with her daughter and co-Founder Audrey Guillem Saba, developed the franchise concept for Le Macaron after achieving unbridled success with their flagship Sarasota, Florida café a decade ago. Since then, the Le Macaron French Pastries franchise opportunity has grown by leaps and bounds, reaching from coast to coast, with cafés and kiosks popping up all across the country. The simplicity of owning and operating a Le Macaron franchise is a major draw for people who have always dreamed of being entrepreneurs but feared they didn't have the time or resources available to help a business grow and succeed. With the Le Macaron model, Franchise Owners can rely on the support, guidance, and advice of an entire corporate team for both day-to-day questions and larger-scale items.
Not only do we give our Franchise Owners the training and support they need to find success in the French pastry business, but we also give them the French pastries! Our macarons, gelato, and other heavenly French pastries and chocolates are hand-crafted in our exclusive Sarasota confectionary, then shipped to each Le Macaron franchise location in the country, eliminating the need to bake anything in-house! This highly unique aspect of the Le Macaron franchise model not only helps to ensure maximum quality and taste across all franchise locations, but also allows our Franchise Owners to focus only on the business aspects of owning and operating a French patisserie. In this way, we separate ourselves from other opportunities in the bakery franchise industry.
Franchise Owners at Le Macaron also adore the amount of freedom and flexibility they are able to enjoy once their location takes flight. Owners like the Amundsens are able to sell 20 different flavors of our signature macarons, as well as gelato, assorted pastries, and hand-crafted chocolates, but won't need to spend every moment of their lives at their café and mobile kiosk locations. This is because our franchise concept was designed to allow our Owners to enjoy a healthy work-life balance that gives them time to spend with family, in another career, or simply appreciating everything life has to offer! Virtually no other bakery franchise concept would permit Franchise Owners to share their time between work and home so freely.
By investing in a Le Macaron French pastry franchise, you are becoming part of a loving, caring family business. Rosalie, Audrey, and the rest of the Le Macaron corporate team are focused on helping Franchise Owners succeed in their individual markets, and it shows! We believe in our one-of-a-kind product and its selling power across the United States, and we dream of someday having a Le Macaron café, modular kiosk, or all-new mobile kiosk available in nearly every city in America! We are seeking Franchise Owners who can help us grow our business while upholding our tenets of high quality, outstanding customer service, and a little bit of love in every bite!
If you'd like to hear more about how you, like Lisa and Dave Amundsen, can take the next steps toward owning a Le Macaron French pastry franchise, we invite you to visit our  franchise website, or complete the form below to begin your process toward qualifying for a franchise location in your area. We are quickly becoming America's number one French macaron business, and we want to speak with like-minded individuals who dream of owning a franchise that brings joy to the people of their community.
Stay up to date with Le Macaron French Pastries!
Like us on Facebook Follow us on Instagram. Connect with us via LinkedIn.